RUSSIA
St.-Petersburg group tours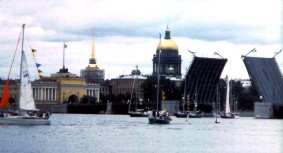 We welcome school children and student groups to visit St.-Petersburg according to the following program:

"I Love You, Pearl of Peter"

Day 1:

Arrival to St.-Petersburg.

Meeting at airport, train station, transfer & sightseeing.

Visit to the Peter and Paul Fortress - a symbol of St. Petersburg and also the oldest building in the city. Also there, you will visit Peterґs Cathedral, the burial place of the Russian Tsars from Peter the Great onward Nevsky Prospect and some of the cityґs most interesting architectural monuments including the Royal Palace Square. Mikhailovskiy Castle(18-19c) – residence of Emperor Paul.

St. Isaacґs Cathedral (19c), the forth highest cathedral in the world with a splendid interior and whose cupola holds over 100 kg of gold, etc.

Accommodation at Hotel 2-3-4 person/room, late lunch and optional afternoon visit to Circus Chinizelli(for extra cost).

Day 2:

Breakfast at Hotel.

After breakfast visit to one of the greatest and largest art museums in the world - the Hermitage. The museum consists of five historical buildings including the Winter Palace - the residence of the Russian Tsars. Afterwards visit to Kazan Cathedral and "The Cathedral Spass na Krovi".

Late Lunch. Free time in the afternoon or optional visit to one of the Museums(for extra cost):

History of political police in Russia, History Religion, Dolphinary, Zoology Museum, Kuntskamera.

Or going to Classical Theathre(for extra cost).

Day 3:

Breakfast at Hotel.

After Breakfast visit to to the town of Pushkin (formerly Tsarskoye Selo). The Palace and Park of Tsarskoye Selo is a former country residence of the Russian emperors. It is a fascinating monument of the worldґs architectural and gardening arts of the XVIII-XIX centuries. Its 3 parks occupy an area of 600 hectares on which are located over 100 architectural monuments. Duration 4 hours.

Late Lunch and optional visit to Classical Theatre(for extra cost). Transfer to Airport/Train Station.

For the cost of the Tour and about the discounts please contact our member of staff.

The cost usually includes:

Accommodation
Food
Transportation by bus, transfers.
Excursions
Entrance fees

Also the following services can be ordered separately:

Excursion to Museum in suburb areas, transportation + entrance fees.
City Bus Tours.
Tickets to Theatres, Circus, Cinema, Concerts & Stadiums.
Excursion to any Museum in the City.

We are ready to organize any program of your choice. Our company holds the right to make changes in the program, not lessening the total amount of the services specified.